Description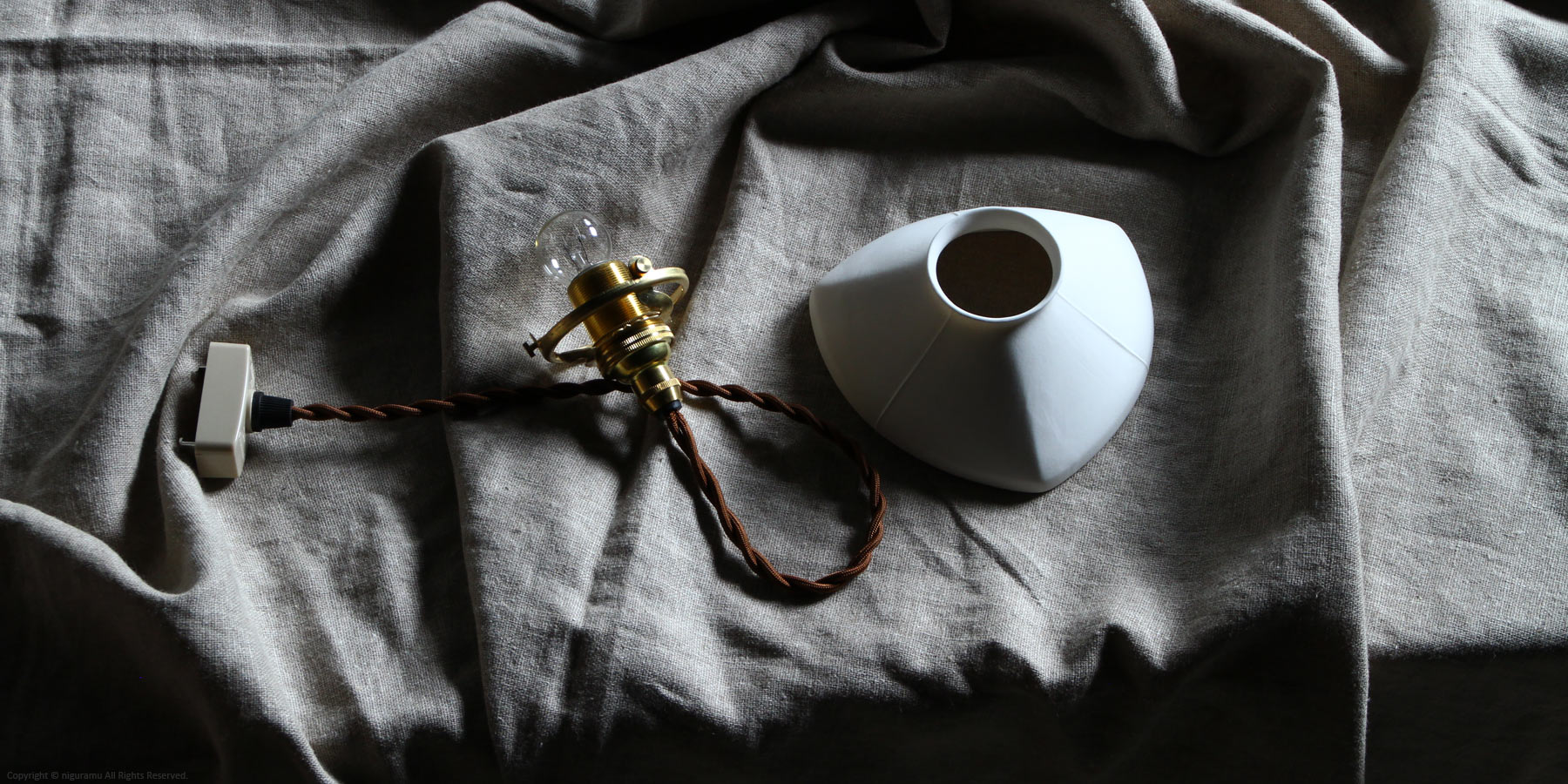 Triangle S (open)
Shade: 134"W × 134"D × 54"H mm
Weight: 100g
Materials: Porcelain
Surface finishing: Unglazed

* Default lighting total length including lampholder: 500"L mm
Lampholder
Default: Adjust the cord of the lampholder to a total lighting length of 500 mm including the lampshade.



Color:


White: cord-white, socket-gold, gallery-golg
Unber: cord-unber, socket-gold, gallery-golg
Black: cord-black, socket-black, gallery-black



Specification:


PSE
Voltage rating: 100V, 50/60Hz
(

For use outside of Japan: Up to 300V

)
Light bulb not included.
Light bulb: E17 base, (Recommended up to 60W in Japan)
Ceiling cover
90"diam × 40"H mm
Weight: 65g
Materials: Brass
Surface finishing: Buffing-brass(golg), Sulfide-fumigation(black)
Others
Lampshade and lampholder are sold separately.
Important points
サイズ・形状等に相違、陶器特有の歪みがある場合もございます。
また、型のキズなどの凹みを直さず制作するためシェードに凸起がある場合もございます。作家の制作意図をご了承の上、ご購入下さい。
衝撃を加えたり落としたりしないで下さい。破損の原因になります。
灯具をしっかりとランプシェードに取り付けたことを確認後に吊り下げてください。
ランプシェードと灯具は別売りです。合わせてご購入下さい。
ランプシェード単体(灯具無し)の販売は致しますが、灯具のみの販売はしておりません。
「照明全長変更(別売り)」のご注文は、1つ購入につき 照明全長1000mm未満の変更が可能です。ご注文メモに希望照明全長を必ずご記入下さい。
例:照明全長 1001~2000mmご希望の場合は「購入数量 2」になります。
「天井カバーあり」で取り付ける場合はカバー内に収まるサイズに限りがあるため、天井カバー内の許容範囲参照画像をご確認の上、ご購入下さい。
天井カバーは下部ネジでコードの任意の位置で止めることが可能です。
商品お届け後の「コード長さ変更による照明全長変更」は受け付けておりません。
この商品は代金引換えでのご注文をお断りしております。
Regarding Delivery / Gifting
Delivery Time
1.5~2.5 months after backorder.
Delivery Type
International delivery (outside Japan)
Express home delivery