Description
Triangle S (open)
Shade: 134"W × 134"D × 54"H mm
Weight: 100g
Materials: Porcelain
Surface finishing: Unglazed

* Default lighting total length including lampholder: 500"L mm
Lampholder
Default: Adjust the cord of the lampholder to a total lighting length of 500 mm including the lampshade.



Color:


White: cord-white, socket-gold, gallery-golg
Unber: cord-unber, socket-gold, gallery-golg
Black: cord-black, socket-black, gallery-black



Specification:


PSE
Voltage rating: 100V, 50/60Hz
(

For use outside of Japan: Up to 300V

)
Light bulb not included.
Light bulb: E17 base, (Recommended up to 60W in Japan)
Ceiling cover
90"diam × 40"H mm
Weight: 65g
Materials: Brass
Surface finishing: Buffing-brass(golg), Sulfide-fumigation(black)
Others
Lampshade and lampholder are sold separately.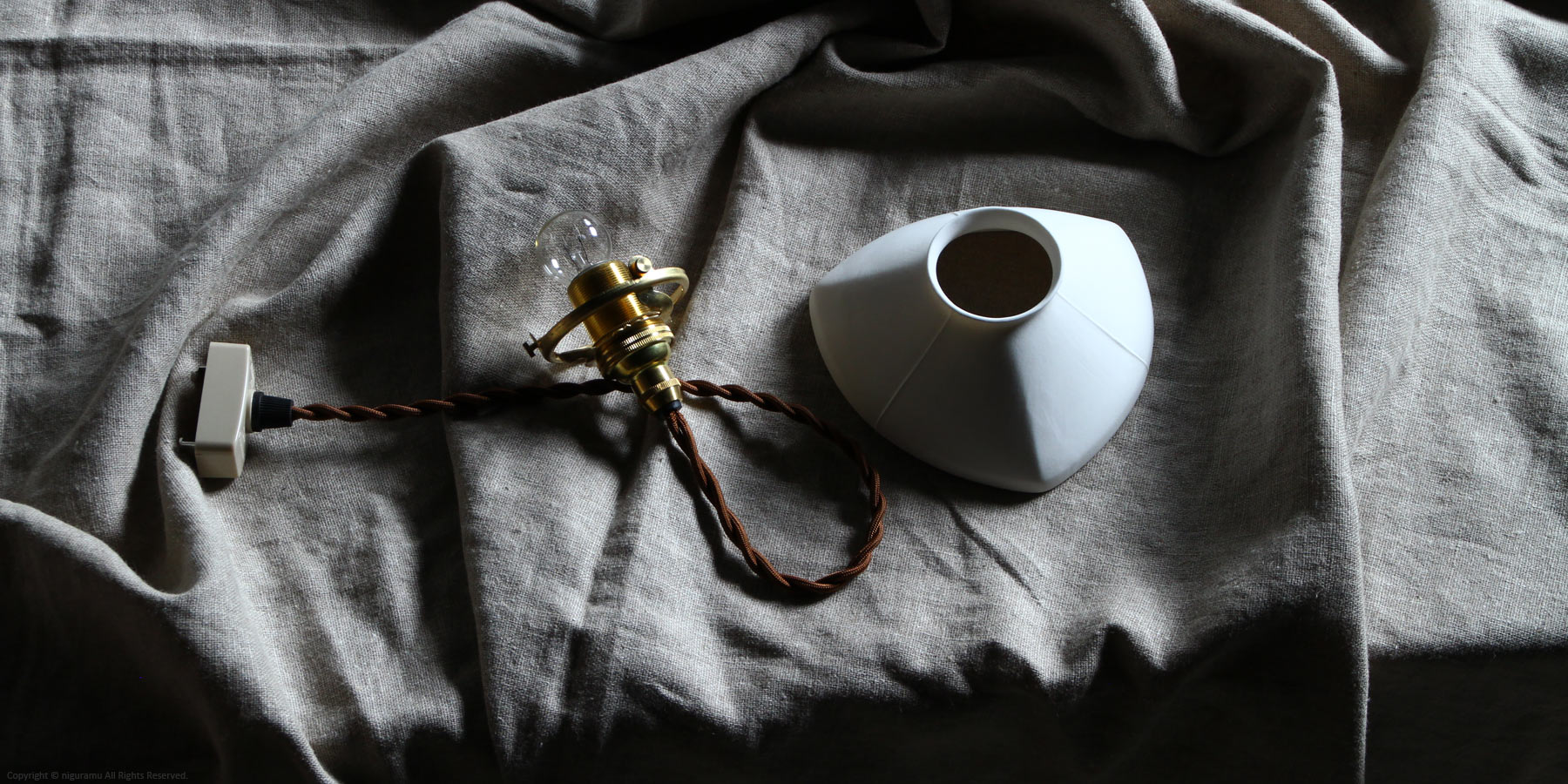 Important points
Differences in size, shape, etc., and distortion peculiar to pottery may occur.
There may also be protrusions on the shade where scratches on the mold have occurred. Please understand this is the artist's intention before purchase.
Do not hit or drop the product as this may cause damage.
Please only hang the lampholder once you have confirmed it is firmly attached to the lampshade.
The lampshade and the lampholder are sold separately. Please purchase together.
The lampshade can be purchased without the lampholder, however the lampholder cannot be purchased without the lampshade.
When requesting a change in the total light length (sold separately), please note that the total length of each light can be changed to up to 1,000mm per purchase. Please endeavor to enter your desired light length in the order memo.
When installing with the ceiling cover, please note the size that fits inside the cover is limited. Please endeavor to check the allowable range image inside the ceiling cover before purchase.
The ceiling cover can be fixed in any position on the cord via the bottom screw.
We do not accept any changes in the total light length due to a change in the cord length after delivery of the product.
We do not accept cash-on-delivery for orders of this product.
Regarding Delivery / Gifting
Delivery Time
2~3 months after backorder.
Delivery Type
International shipping (outside Japan)
Express home delivery