Description
Toolbar 250
250"L × 30"H × 5"T mm
Weight: 315g


* Two "Toolbar bracket" are required for installation.

Toolbar 400
400"L × 30"H × 5"T mm
Weight: 500g


* Two "Toolbar bracket" are required for installation.

Toolbar 800
800"L × 30"H × 5"T mm
Weight: 1000g


* Three "Toolbar bracket" are required for installation.

Toolbar bracket

15"W × 48"H × 20"D mm
Weight: 125g
Included: Wood screw x 2 , Metric screw x 1

Tool shaft 150
150"L × 8"diam mm
Weight: 65g


*At least two "Tool shaft bracket" are required for installation.

Tool shaft 300
300"L × 8"diam mm
Weight: 125g


*At least two "Tool shaft bracket" are required for installation.

Tool shaft bracket

108"L × 38"H × 4"T mm
Weight: 100g
Tool hook, type-J
60"H × 43"D × 4"T mm
Weight: 30g
Tool hook, type-L
38"H × 50"D × 4"T mm
Weight: 25g
Materials
Brass
Others
* Simplified Drawing (PDF-A4)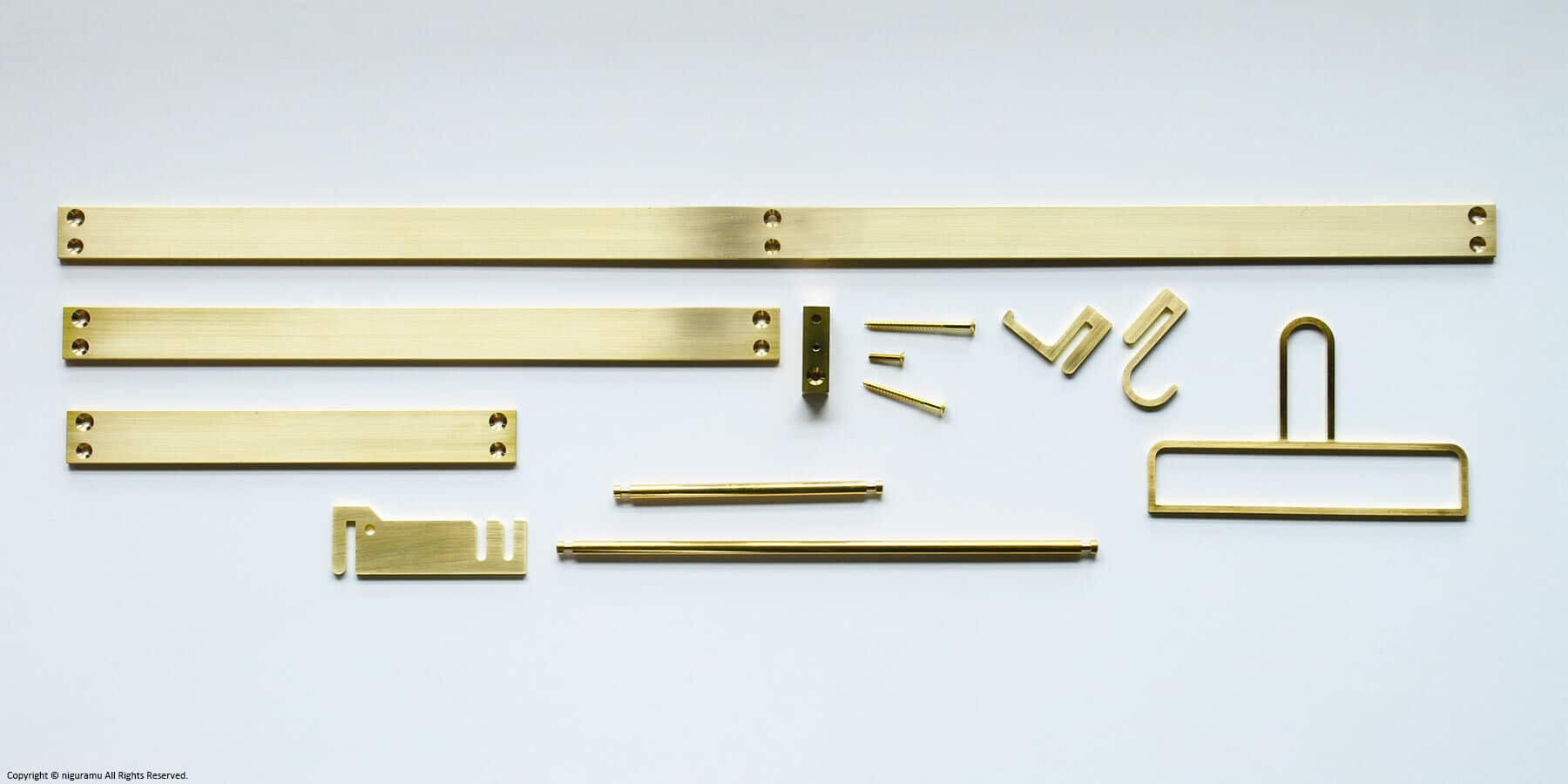 Important points
The elements of the Toolbar series are sold separately. Please be careful when ordering as you might be unable to build up your toolbar if elements are missing.
Please set the hook on a surface made of solid wood. The included screws do not enable to set the hook on a surface made of plaster board, concrete or metal.
This product is made of pure material, which is not plated or painted. Over time of use, the surface will oxidize and get darker. Also, some products may already be oxidized (darker color) at the time of the delivery. Please understand this characteristic of the product before buying and using it.
The product might show small scratches done during the manufacturing process. Please understand this before purchasing it.
Regarding Delivery / Gifting
Delivery Time
2~3 months if not in-stock.
Delivery Type
International shipping (outside Japan),
Express home delivery