Description
Size / 2 gou
Body: 135"diam (165"OD) × 110"H mm
Lid: 150"diam × 75"H mm
Total Weight: 1650g

Back: 95"diam mm
Size / 3 gou
Body: 155"diam (190"OD) × 120"H mm
Lid: 180"diam × 85"H mm
Total Weight: 2400g

Back: 110"diam mm
Size / 5 gou
Body: 195"diam (240"OD) × 150"H mm
Lid: 220"diam × 85"H mm
Total Weight: 3900g

Back: 130"diam mm
Materials
Cast iron, Wood
Others
With wood lid
Range of Use
Gas cooktop , IH , Oven

*If using on a IH cooker (Induction Cooker), please note that the cooker may not always acknowledge pans with a smaller rear diameter or uneven surface. We would recommend referring to the instruction manual provided with your IH cooker or manufacturer before purchase as supported sizes differ depending on the make of the cooker.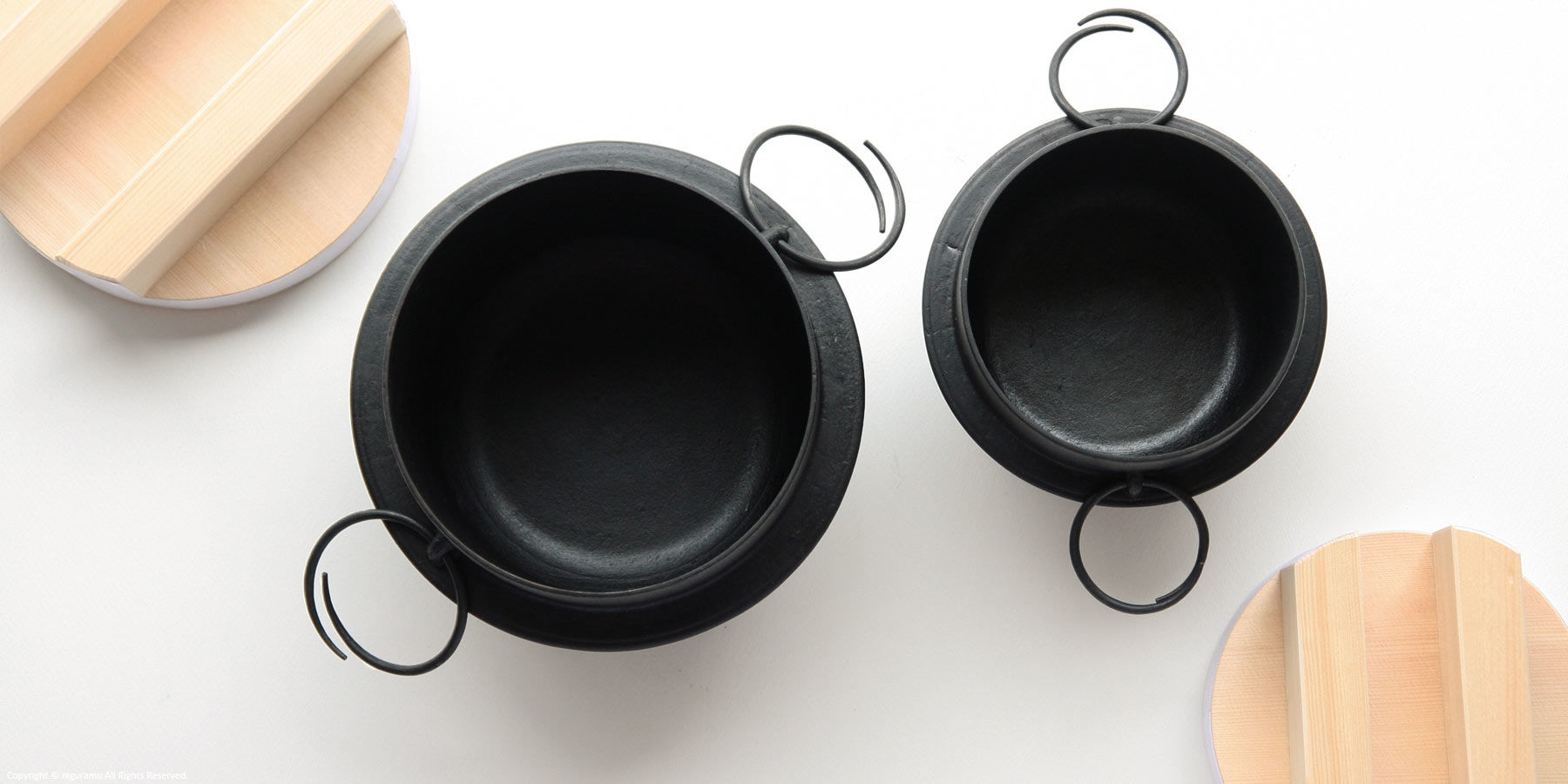 When used for cooking things other than rice, it will not get burnt easily and will not impact the flavor. The smell will stick to the pot somewhat, but you can use it for boiling, soup, or deep frying pot (please remove the wooden lid when used as such). The insides are coated with oil from the oil burning process, so even if you use it for deep frying it will not cause the rice to be oily and taste bad.
Please try the Hagama rice cooker for various usage. Being a deep pot, oil does not splash much, making it recommended for frying.
Before using Hagama rice cooker.
Wash the dust inside lightly with warm water.
After Using
Store in a well-ventilated place after drying. To prevent damage to the iron kettle, please do not keep water in it when storing.
Emptying the iron kettle while it is hot will allow it to dry the remaining water droplets with the heat faster. However, in the case of leftover water, use a low flame as appropriate (around 1 minute) to evaporate all the moisture (do not heat the iron kettle by itself).
---
Important points
Including all sizes of "Kamasada-HAGAMA", purchase is limited to one per person.
If you do not confirm this notice and order one or more, we will refund you without confirmation to the customer. Or we will cancel your order. In that case we will not compensate for stock.
Note that slight differences in size, shape and facial expression can occur due to it being hand made by a skilled craftsman.
Note that the grain and color of each any every lid differs slightly due to it being made with natural materials. Specifications and size may also differ slightly depending on its manufacturing time.
This piece may may crack or darken upon use.
Please refrain from leaving food in the frying pan over long periods of time as this can cause rust. This is especially important for dishes that contain a lot of moisture or are sour in taste.
Please use as little washing detergent on the frying pan as possible. Instead, please use a sponge or scourer to remove any dirt. Once washed, please dry with a cloth and place over heat for a short time to thoroughly dry it. (Do not leave it under heat for a long time.)
Due to the manufacturing process, there may be small bumps or holes. However, each item has passed the manufacturer and our inspection standard and will not cause issues during usage. Please refrain from returning the product for such reasons.
Since the finish and quality standards of products vary depending on the manufacturer, the appearance of casting surface also varies.
The blackening may come off during delivery.
Regarding Delivery / Gifting
Delivery Time
We ship the item accordingly when it is in stock.
Delivery Type
International shipping (outside Japan),
Express home delivery
Gifting Options (Only in Japan)
Gift-Wrapping,
Small message card,
Noshi (Japanese gift wrapping ribbon paper)