Description
Fish pan
Whole: 330"L ×295"W × 48"H mm
Weight: 2000g

Pan section: 295"W × 180"D × 48"H(44"deep)mm
Pan back: 210"W × 115"D mm
Lid
295"W ×180"D ×65 (handle 40)"H mm
Weight: 1300g
Materials
cast iron
Range of Use
IH , Gas cooktop , Oven

*If using on a IH cooker (Induction Cooker), please note that the cooker may not always acknowledge pans with a smaller rear diameter or uneven surface. We would recommend referring to the instruction manual provided with your IH cooker or manufacturer before purchase as supported sizes differ depending on the make of the cooker.
Because of its depth, it is also adapted for stir-fried dishes. If you put the lid on, you can steam, simmer and expand the type of cuisine.

External surface of the pan.
Surface: 210 x 115mm

Currently, there is a "Rikucho" stamp on the surface.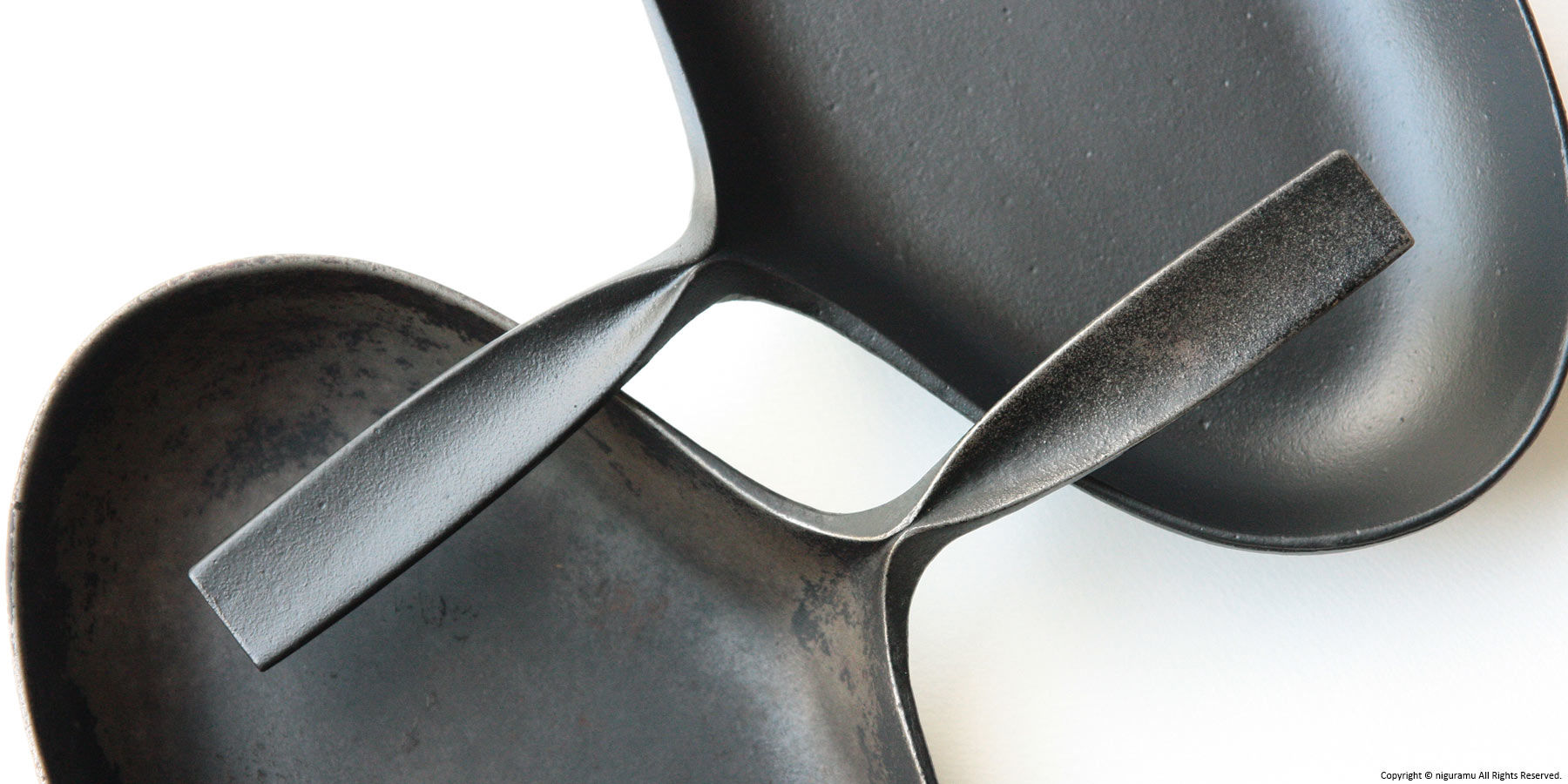 Before use
First, lightly wash the frying pan with water and dry. Then, place the frying pan on a heat sauce and heat with a generous amount of vegetable oil. It should be hot enough that smoke is emitted (around 10 minutes on medium heat). Doing this forms a film of oil on the surface of the frying pan which helps to prevent scorching and rust.
Once this step is done, fry some vegetable scraps together; such as green onions and ginger. Similarly, if using the frying pan for simmering dishes rather than frying, please simmer some vegetable scraps before use. This step helps to suppress any iron-like odors being emitted.
Once done, remove all vegetable scraps and wash the frying pan without using washing detergent if possible. The frying pan is now ready for use.
How to use
Ensure to wait until the ironware is hot enough before adding any ingredients. It is hard for ingredients to scorch on ironware; they are heated quickly which in turn enhances their delicious flavors.
Please note that ironware sometimes reacts with a chemical compound (tannin) found in some ingredients; such as tea and vegetables. While this may alter the color of the dish itself, rest assured it is completely safe to eat.
After use
Please refrain from leaving food in the frying pan over long periods of time as this can cause rust. This is especially important for dishes that contain a lot of moisture or are sour in taste.
Please use as little washing detergent on the frying pan as possible. Instead, please use a sponge or scourer to remove any dirt. Once washed, please dry with a cloth and place over heat for a short time to thoroughly dry it. (Do not leave it under heat for a long time.)While it is a good idea to use a small amount of oil when first using the frying pan, please note that oil is not always necessary as the frying pan becomes familiar with it.
---
Important points
Each product differs in size and shape as they are handmade.
Due to the manufacturing process, there may be small bumps or holes. However, each item has passed the manufacturer and our inspection standard and will not cause issues during usage. Please refrain from returning the product for such reasons.

Since the finish and quality standards of products vary depending on the manufacturer, the appearance of casting surface also varies.

The blackening may come off during delivery.

Don't hold the handle with barehand during or right after cooking because the handle is also heated up.

Regarding Delivery / Gifting
Delivery Time
4~7 weeks if not in-stock.
Delivery Type
International shipping (outside Japan),
Express home delivery
Gifting Options (Only in Japan)
Gift-Wrapping,
Small message card,
Noshi (Japanese gift wrapping ribbon paper)