Description
Size/Small
210"W (broad part) × 210"D × 70"H mm
Weight: 35 g
Size/Large
310"W (broad part) × 280"D × 95"H mm
Weight: 70 g
Materials
Japanese paper and bamboo (body), Aluminum (eyelet)
Surface finishing
Persimmon tannin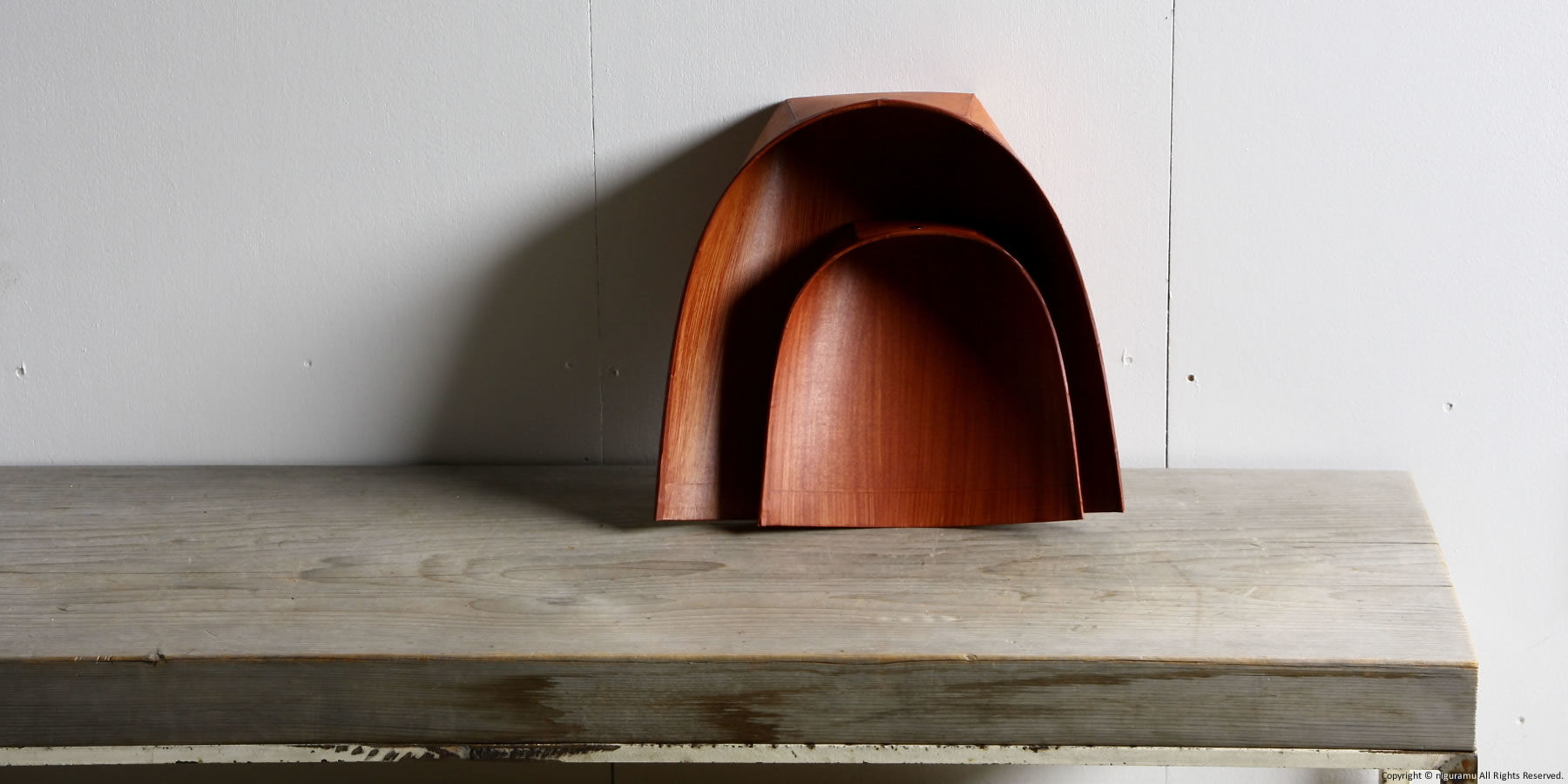 How to use harimi.
When sweeping garbage and dust into the harimi, please push gently from above using your thumb. Doing that will make the curved opening flatten nicely to the floor, allowing you to sweep in garbage and dust without stress.
Fixing wavy opening
If the harimi's opening becomes wavy or it floats above making it difficult to sweep garbage and dust in, hold both sides of the harimi's opening with both hands, then gently and slowly bend to the center to apply a loose curve on the whole body. If it is not fixed after that, hold the section that floats between your thumb and index finger to adjust the roundness.
In the case that it slightly lost its shape during delivery or after usage, perform the procedures above to repair it by yourself.
This product may break if sudden strong force is applied on it, so please attempt this slowly while considering its condition.
Repair and mending
In the case that the surface becomes fluffy or holes appear on it after being in use for a long time, you can repair it by pasting scraps of old magazines of newspaper. Repeating the repair process will allow you to use this product for a long time. While the appearance may degrade, it will retain its excellent capability of collecting garbage and allowing you to dump it without stress.
If the hanging leather strap is damaged, you can replace it with any strap of ribbon of your preference.
Important points
Persimmon juice coating may exhibit different coloring and looks from product to product. Depending on the persimmon juice's quality, speckles and stains may appear on the harimi's surface. This is due to it being coated by hand and is not a defect.
紙の貼り端には、めくれ、糊溜まり、柿渋溜まりなどがある商品もございます。また、製作時やその他の工程による表面の擦れ跡がある場合もございます。
There may be slightly loose paper on the top and bottom or bamboo aggregate that is not covered in paper on the edges of both sides of the Harimi dustpan. Each item is made one by one by the craftsman so there may be some differences. We appreciate your understanding.
With the persimmon juice coating, it can handle some wetness as long as it is wiped immediately. However, since it is made of paper, please only use it indoors.
Regarding Delivery / Gifting
Delivery Time
1~8 weeks if not in-stock.
Delivery Type
International shipping (outside Japan),
Express home delivery
Gifting Options (Only in Japan)
Small message card